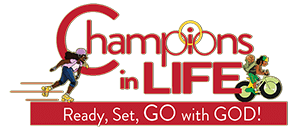 Join us for Vacation Bible School 2022 as we explore what it means to be a Champion in Life!
Who: Ages 3 - 13
When: July 5 - 8, 2022
Time: 9:00 - 1:00pm
Where: Grayson Street Assembly
Your kids will find joy in learning that Jesus makes each one of them a winner and that we are competing in life to reach the goal of the high calling of Jesus Christ.
With Champions in Life, your kids will:
• Activate and exercise faith and fun!
• Be encouraged to set godly goals!
• Be inspired to reach for the prize!
• Believe that Jesus makes them champions!
"But those who hope in the Lord will renew their strength. They will soar on wings like eagles; they will run and not grow weary, they will walk and not be faint. Isaiah 40:31"